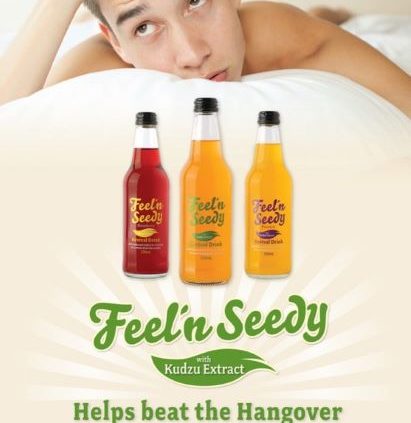 We all can feel a little seedy from time to time – but now New Zealand consumers have a way to banish that seedy feeling with this new range of innovative beverages. Feel'n Seedy is a hangover recovery drink like you have never seen or had before. And just quietly a couple of us at the Focus Distribution office can testify that it works like a charm.
Available in 3 popular flavours- Orange, Passionfruit and Raspberry they are carbonated to add a refreshing fizz and contain multi B & C vitamins, Kudzu Root extract and Yerba mate Tea to revitalise and hydrate. 
Yerba mate is a traditional South American drink that's gaining worldwide popularity. It's said to have the strength of coffee, the health benefits of tea, and the joy of chocolate. It is considered an antioxidant powerhouse that contains many beneficial plant nutrients which can boost energy and improve mental focus- but without the jittery side effects of coffee.
Kudzu is a vine and the root, flower, and leaf have been used in Chinese medicine since at least 200 BC. Today, kudzu is used to reduce the symptoms of a hangover- including headache and upset stomach.
Feel'n Seedy comes in 330 ml glass bottles which are able to be recycled – so they are good for the planet as well as the body. Each carton contains 12 bottles.
We know Feel'n Seedy is going to be a hit with millennials who live life in the fast lane and busy kiwis who just need an energy boost.
So, if you want to give your chilled beverage sales a boost, contact us to find out more about this amazing drink. 
https://focusdistribution.co.nz/wp-content/uploads/2019/10/Feeling-Seedy-image-resized.jpg
608
411
Marise Gunderson
/wp-content/uploads/2017/07/Focus-Logo-White-BG.png
Marise Gunderson
2019-10-03 13:54:54
2019-10-29 12:21:42
Focus Distribution Launch Feel'n Seedy Recovery Drinks